The Sylvie Dagnac - Jorge Cardoso duet
The stirring duet of Jorge Cardoso, undisputed master of Latin American music, and the young and outstanding Sylvie Dagnac, slips from Khatchatourian, Mendelssohn, Saint-Saëns, to themes of Cardoso (Milonga), Garcia, (Pasillo), Rojas or Heraclio Fernandez (El diablo suelto). This glorious moment, full of delight, complicity and creativity, when musicians meet on stage, combines rythm of these sumptuous and colored tones.
Jorge Cardoso and Sylvie Dagnac, appeared in several international festivals, in duet and with orchestra, in France, Italy, Spain, Argentina, Germany, Costa Rica, Turkey, Morocco.
Fervent defenders of the oral culture, and of the listening of « all ears », they stand up for traditional folk, passed on by the oldest to the youngest. This way of training, makes aptitude, for studying possible. Traditional musics are souvenir vivids and have a group approach.
Actually they have recorded a world musics CD.
Professional experiences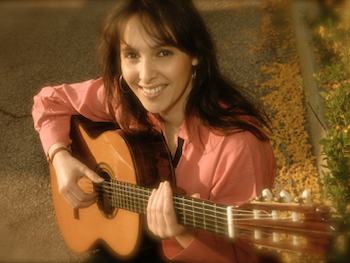 Sylvie DAGNAC studied with Ricardo Gallen, Dale Kavanagh, Philipe Azoulay, Marco Meloni, Jesus Castro Balbi, Jorge Cardoso and Tania Chagnot. She is a real mine about baroque, clasical, romantic, contempory and latin-american repertory. She played in several festivals with Quilapayun and Calchakis groups.
She also accompanied some cantatas vocal ensembles like Misa Criolla, Cantata para un hombre libre, El Dorado, Misa por continente, Navidad Nuestra , Santa Maria de Iquique , El canto general and so on ...
She participated to several international festivals with full orchestras ans instrumental ensembles with different music groups (Flute and Guitar).
She also played with the quatuor Solamento from 2003 to 2012.
As she is specialised in the Latin-American repertory, she teaches the guitar in french music schools. She has created and manages some guitar ensembles and children chorus at school.
Since 2009, she has created and managed Le chœur des 2 Rhônes for 22 children and the guitar ensemble Guitarreadas, based on Jorge Cardoso and Viviane Lamarlère's works.
She is the artistic director of the guitar academy « Guitarles Académie » in Lambesc (France). This musical house is devolved on one side to classical teaching and on the other side to different musical styles as Latin-American, Spanish or from other countries. Traditional music is a most in collective or individual powers. The first two years of initiation learnings are in harmony with instrumental learnings, based on scientific knowledges.
These are truly inspired by the book of G. Sanz (Zaragoza 1674), the handwritten Ms.811 (Madrid 1709), the code Zaldivar (Mexico 18th century) and the Latin-American popular folk music.
She supports this initiation once a year, in july, where she runs a guitar training, in the south of France.
Translation by Laurence Dandrieux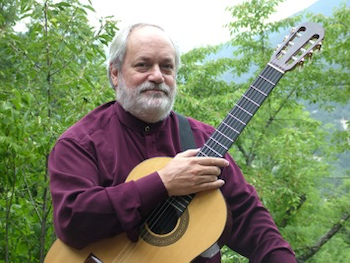 Jorge CARDOSO, a Soloist, Composer, Researcher, Medical Doctor (National University of Cordoba, Argentina) and Superior Guitar Teacher (Madrid Royal Conservatory). He has performed in Europe, America, Asia and Africa. He has frequently participated in gathering and international festivals, courses, conferences, seminaries, radio and TV. He has composed over 400 works for solo guitar, duets (two guitars, guitar and violin, claves, viola, cello and flute), three and four guitars, string quartet, guitar and stringed, guitar and wind, concerts for guitar and orchestra, for guitar orchestra and symphony orchestra, string orchestra and many songs. These are performed regularly by guitarists throughout the world and have been recorded by over 150 artists. Another related work includes their transcriptions and folkloric arrangements from several South American countries, of the Spanish Renaissance and Baroque, from other nations and periods.
He is the author of:
"CIENCIA Y MÉTODO DE LA TÉCNICA GUITARRISTICA"
"RITMOS Y FORMAS MUSICALES DE ARGENTINA, PARAGUAY Y URUGUAY"
"BRÚJULA Y ANTORCHAS PARA TAÑER VIEJAS MÚSICAS" (interpretation notes for the Renaissance and Baroque)
"COMO SER INFELIZ Y ENFERMO EN UN MUNDO DICHOSO Y SANO" (about musician disease)
"LUCAS BRAULIO ARECO, obra completa para guitarra"
Several essays and articles
He obtained in Argentina the following first prizes: Música Litoraleña Festival (1963), Folklore National Festival in Cosquín (1967), Composition National Contest of Salta (1971) and Classical Guitar International Contest of Buenos Aires (1973).
He is the founder of the Madrid Guitar Chamber Orchestra and President of "GUIA" (International Organization for the Latin American Music Diffusion). He was the Art Director of the Posadas International Guitar Festival (Argentina), the Alsace International Guitar Festival and the Morocco International Guitar Festival organized by the Cervantes Institute in 1999. He is currently managing the Contest and International Festival Lucas B. Areco in Posadas, the Lambsec International Guitar Festival and the World's Guitar in the French Haut Verdon region.
He has been recorded more than 40 times in Spain, Germany, Japan, France, Czechoslovakia, Poland and Argentina, standing out "DIE GRÖßTEN GITARRISTEN UNSERER ZEIT» (the world's greatest guitarists of our time) Segovia, Bream, Williams, Yepes, Behrend, CARDOSO, R.C.A. RL 43454 (R.F.A., 1981) and «TAÑIDOS» Vol. 2 (1990) and Spain Culture Ministry Prize (June 1991).
His amazing output joined to his truly emotional performance and virtuosity has made the specialized media unanimously acclaimed him as a guitar living legend.
Translation by Patricio Arrieta